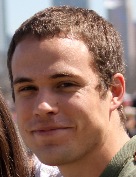 i am a 29 year old software developer living in austin, texas, and i am currently employed by a notable e-retailer. i am married to a pretty girl named ashly; the most interesting man i've ever met is this guy; and i'm a follower of Jesus Christ (read more).
texas is home now, but i'm originally from indiana. i graduated from purdue university's computer engineering program in 2009, and then got a master's degree in computer science from university of texas. i also spent several years in the marine corps, during which i had the opportunity to serve overseas with an exemplary reserve unit.
if you'd like to get a hold of me, twitter is good place to start.
code
if you're interested in my work, feel free to browse some of my code. i'd recommend starting with one of these:
talks
writings
against my better judgement, i sometimes write about code and computers:
☠