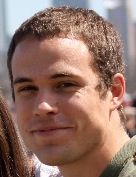 I am a 35 year old software engineer living in Austin, Texas, and even though I currently work on Android stuff at Google, my heart's still with the open web.
I've got a few kids, a wife that's way out of my league, and I'm a Jesus follower.
Texas is home now, but I'm originally from Indiana. I graduated from Purdue University's computer engineering program in 2009, and then got a master's degree in computer science from the University of Texas. I also spent several years in the Marine Corps, during which i had the opportunity to serve overseas with an exemplary reserve unit.
If you'd like to get a hold of me, Twitter is good place to start.
Code
I like working on big mobile apps, and so far that's all been closed source, but I write code in my free time too. Some projects include:
Talks
Writings
Against my better judgement, I used to write about code and computers:
☠